This is my last article on this theme of The Tumultuous 20s. To get the rest of it, you'll have to read the book when it is released. I hope you will get it and prepare yourself and others for the critical times just ahead of us. 
I've often wondered how some groups of people can live a lie so full of zeal, devotion, and commitment while many in the church live the truth so poorly, purposeless, and with little zeal and commitment.
For example, terrorist groups' commitment to a dark and violent cause is often so much greater than the church's commitment to the truth. They are the product of a message and a mandate that inspires such passion in them, while our gospel produces passivity and powerlessness and a general lack of zeal and commitment.
Why does their message produce radical disciples for their counterfeit cause while ours falls so short for the greatest cause ever known to humanity?
Could it be that we are preaching the wrong kind of gospel, thus producing the wrong kind of convert?
Here are the two kinds of gospel I hear in the West:
1. Accept Jesus and go to heaven when you die.
Although true, this gospel falls desperately short of producing passion, whole-hearted commitment and radicality in its converts.
2. Come to Jesus and be like Him and make the world a better place.
This gospel especially appeals to the younger generation as many of them have a passion for making the world a better place through promoting and supporting good causes and being engaged in social activism. They idolize globalism while many on the conservative right idolize nationalism. I love America, and I, too have been guilty of idolizing nationalism and putting too much confidence in the political process myself.
The Lord Jesus Christ is not in either group. He is not a globalist or a nationalist. He is not Republican or Democrat. He is not necessarily conservative or liberal. He is not a Protestant or a Catholic. Jesus lives in the radical middle.
The above versions of the gospel are not the gospel. There is nothing in it that moves me to sell everything and follow Jesus. The Church must find the radical middle.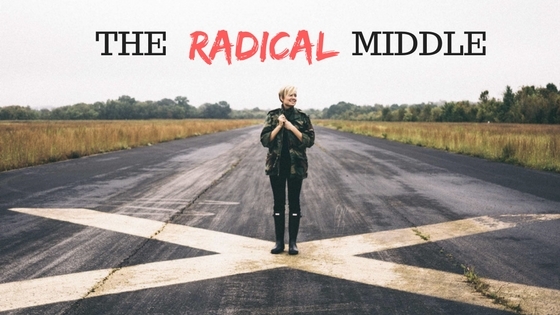 RIGHT WING, LEFT WING, OR THE RADICAL MIDDLE
In Jesus' day, the Pharisees were the conservatives and the Sadducees were the liberals, and they constantly challenged Him to take sides, but He never did. He never responded to implied questions or suggestions such as, "Are you for us or against us?" or "Is it lawful to pay taxes to Caesar, or not?" Such are the political talking points many believers often argue today on social media.
As we soon head to another presidential election season, is our hope being placed too much on the political process to bring forth righteousness, truth, and morality in our nation? Are we sitting at Caesar's table to gain influence in affecting laws that will bring the kingdom of God to the earth?
Not only did Jesus walk in the radical middle, but in days of old, Israel's call was to be the same. In the midst of a dark world and the various political perspectives of that day, Israel was to be a light among the nations for all to see. They were to provide a better hope and a better place for the manifestation of God's glory for people to find fulfillment in.
Such is the highest purpose of the church today. Through the directives in the New Testament, we are to be a place of love, power, morality, truth, and righteousness. We are to be that city set on a hill who exemplify the higher ways of the kingdom of God. We are to set the example of how to live in love, peace, and unity among one another and manifest the glory and power of God.
And as we fulfill this purpose, we become the people of the radical middle, who position ourselves to not only be the conscience of the nation(s)—but a powerful prophetic voice and living testimony to all.
The radical middle does not say to the homosexual, "go back to your closet." Instead, it says, "come out of your grave!" 
The radical middle does not necessarily say, "make America great again." Instead, it says, "make Jesus Christ and His Church great again!" 
Our kingdom cry should be far greater than our nationalistic cry. This will only be so when we find the radical middle. More than making America great again, our high calling is to make Jesus and His church great again by fulfilling kingdom purposes.
"Now when Joshua was by Jericho, he looked up and saw a man standing in front of him. In His hand was His drawn sword. Joshua went to Him and said, 'Are You for us or for our enemies?'
"He said, 'Neither, for I am the commander of the army of the Lord. Now I have come'" (Josh. 5:13-14).
The commander of the army of the Lord was not for Israel or its enemies. He had come to command His army and to establish His kingdom, which is built on truth, righteousness, and justice. Let us move according to the Lord's command and not our own agenda. He will always stand for truth, righteousness, and justice for such is the foundation of His character and throne (Ps. 97:2), and it's His rule and reign that we must have the greatest passion for. Remember, of the increase of His government and peace there will be no end. (Isaiah 9:7).
Be a support to us and follow our blog and help spread these messages. Also, consider subscribing to our ministry YouTube channel for weekly 15 minute Face to Face video impartations on the Spirit-filled life from my wife and I.  
Our books are forerunners to personal holiness, the move of God, and the return of the Lord. They also combat the departure from the faith and the turning away from the truth we are seeing in our day. 
Also, this ministry is sustained by the freewill offerings of those who believe in the mandate and message of revival and restoration that this ministry carries. Again, if this article has been a blessing to you, would you prayerfully consider making a tax-deductible contribution through our Paypal button to help? 
Thank you, and may God's richest and best be yours.