This is another excerpt from my newest book, Cleansing The Temple.
Compare these extreme quotes on money from our day's most popular preachers to those of centuries past.
"The Bible says that He has left us an example that we should follow His steps. That's the reason I drive a Rolls Royce. I'm following in Jesus' steps." Anonymous
I've chosen to refrain from naming the said preacher. I don't want to discredit all the good he may have done. As I've stated, blowing out someone else's candle does not make mine shine any brighter. Besides, the point here is to keep the main point the main point, and not go off on a tangent on how some preachers are just after your money. Not all preachers are that way. Two wrongs don't make a right. Thank God for the many pure-hearted preachers in the land today who've not been tainted by greed and the love of money. Thank God for the extreme generosity of so many who support the gospel and the work of the local church, and who contribute great financial support to projects that help the poor and needy.
Nevertheless, how can such a careless and erroneous statement come out of this popular preacher's mouth? So, following Jesus has been reduced to driving a Rolls Royce? But what does the Bible say?
"For to this you were called, because Christ also suffered for us, leaving us an example, that you should follow His steps: 'Who committed no sin, nor was deceit found in His mouth'?" (1 Pt. 2:21-22).
One of the greatest examples given in Scripture for following in Jesus' steps has to do with suffering wrongfully. That is the example we are to follow. (See also Matt. 10:25 and Jn. 15:20, among many others, that teach us how we are to follow our Master.)
Here's another quote from a popular preacher:
"Give $10 and receive $1000. Give $1000 and receive $100,000. Give one house and receive one hundred houses or a house worth one hundred times as much. Give one airplane and receive one hundred times the value of the airplane . . . in short, Mark 10:30 is a very good deal."
So Mark 10:30 has been reduced to "…a very good deal"? How pathetic! What was meant to be a Scripture to forsake all for the gospel and suffer persecution for that kind of godly, consecrated lifestyle has been reduced to a money-and-materialism Scripture. What an example of corrupted motives! Once again, I refrain from naming the source of this erroneous quote; suffice it to say that this ministry is one of the most popular ministries in America today, with a very large following.
Does Mark 10:30 really mean that kind of hundredfold return on all your giving? Let's read that verse in context. First of all, this entire statement spoken by Jesus starts with verse 29.
So Jesus answered and said, "Assuredly, I say to you, there is no one who has left house or brothers or sisters or father or mother or wife or children or lands, for My sake and the gospel's, who shall not receive a hundredfold now in this time — houses and brothers and sisters and mothers and children and lands, with persecutions — and in the age to come, eternal life" (Mk. 10:29-30).
There is nothing in this verse that is in context with this popular preacher's quote. This has nothing to do with sowing money, houses, and airplanes in order to reap one hundred times more. These verses have nothing to do with money. Period. This preacher's interpretation is the product of the Western gospel of riches and materialism. The real meaning of these verses is in the context of leaving all to follow Jesus.
I was a missionary for many years and left houses, family, and lands to follow Jesus and serve overseas. I'm not 100 times richer now than I was then. What I have received is that I've gained at least 100 more brothers, sisters, mothers, and children. Due to my travels to preach the gospel, I've lived and slept in 100 more houses than the one I left to follow Jesus, and never paid for most of them. I've been to and visited many more lands than I left. And I've received a little persecution with it all. Notice in the preacher's careless interpretation of this text that nothing is mentioned about receiving persecutions. They don't want to claim that part.
Once again, the Bible teaches us that a desire to be rich is dangerous.
"But those who desire to be rich fall into temptation and a snare and into many foolish and harmful lusts, which drown men in ruin and destruction" (1 Tim. 6:9—MEV).
Unless money is indeed your servant, and you are a non-profit bond-slave of Jesus Christ, money could eventually ruin you.
VERY BAD TEACHING ON MONEY
Here are a couple of more modern-day quotes on money taken from this much-maligned verse of Scripture:
"For you know the grace of our Lord Jesus Christ, that though He was rich, yet for your sakes He became poor, that you through His poverty might become rich" (2 Cor. 8:9).
"It is just as much God's will for us to be rich (financially and materially) as it is for us to saved." — Anonymous
"It is disrespectful to the work of redemption not to receive the financial wealth Jesus provided for us at the cross." — Anonymous
Many preachers today have so misinterpreted the aforementioned verse and have turned it into economics — saying that Jesus was made economically poor so that we might be economically rich. How absurd! I used to believe this myself until I studied the message God gave me for this book, and I allowed Him to deal with my own heart. The gospel of salvation cannot be equated with the financial situation of Jesus on the Earth. That is not the issue. It isn't about Jesus becoming poor materially that we might be rich materially. It is that God became a man in the incarnation — that's the impoverishing. That's how He, being rich, became poor.
He was born of a woman (Gal. 4:4), was made in the likeness of sinful flesh (Rom. 8:3), and went to the cross (Col. 1:20). He laid aside the free exercise of all of His divine attributes. He left being face to face with the Father and took on human form (Phil 2:5-8). He emptied Himself, "taking on the form of a servant and being made in the likeness of men." That's the poverty of Jesus.
There's no salvation through the economic sacrifices of Jesus. In fact, if that were the case, we would've expected Him to be a lot poorer than He was. I cannot find any evidence He was even classified in any sense among those in His society as "poor." There's nothing to indicate in the life of Jesus that He was poor. He lived a common, ordinary life, like many other people did in His day.
Notice the expression "for your sakes He became poor… that you might be rich." Is this talking about being materially and economically rich? No, but to make poor sinners rich. Spiritually and eternally rich? Yes. Rich with the same riches that He possessed and still possesses. Rich in salvation, forgiveness, joy, peace, life, light, glory; rich in honor and rich in majesty. We are so rich that we are called joint heirs with Christ and kings and priests. We are promised an inheritance incorruptible and undefiled that fades not away, laid up for us in heaven (1 Pt. 1:4). We were really poor, but now we are rich as He is rich.
"For all things are yours" (1 Cor. 3:21). All things are yours in the world or life or death or the present or the future — all are yours, and you are Christ's and Christ is God's (v. 22-23). Everything is ours. We are the rich. We are rich in position, and, as joint heirs seated in heavenly places, we reign with Him. We are rich in privilege. We are rich in relationship. We are blessed with all spiritual blessings in the heavenly places in Christ Jesus. Everything there is that could bless us, we were given.
When you're talking about Jesus becoming "poor," you don't want to get off into this material realm. It's not talking about Him giving up material things but giving up immaterial things. He's referring to rich and poor in the spiritual sense, as Paul did in 2 Cor. 6:10, where he says this of himself: "As poor yet making many rich."
He's not talking economically or materially but spiritually. Paul is speaking about the terrible deprivations that he had to suffer and endure to get the gospel to people, which made them spiritually rich. Paul had to also descend from the status of his high education and his great leadership ability, that he became a scourge and an offscouring of the earth to get the riches of the gospel to other people. And that was the "poverty" he speaks of regarding Jesus.
In verse 9 he begins by saying, "For you know." The word "for" links us up with the prior verse. In verse 8, he says, "I speak not by commandment, but I am testing the sincerity of your love by the diligence of others." In other words, Paul is saying, "I don't need to command you to do this, because you know how Christ gave. I don't need to command you to give graciously, because you have an example that supersedes any command I could give. Rather than doing it because I command you, do it because you see Christ exemplified in it. In other words, the giving of Jesus Christ provides a greater incentive and motivation than the command of the apostle Paul. Every Christian knows Christ came down and gave His life, and that should be the single greatest motivation, even more motivating than the model Paul gave of the Macedonians.
How shameful that some have made 2 Cor. 8:9 all about financial and material riches.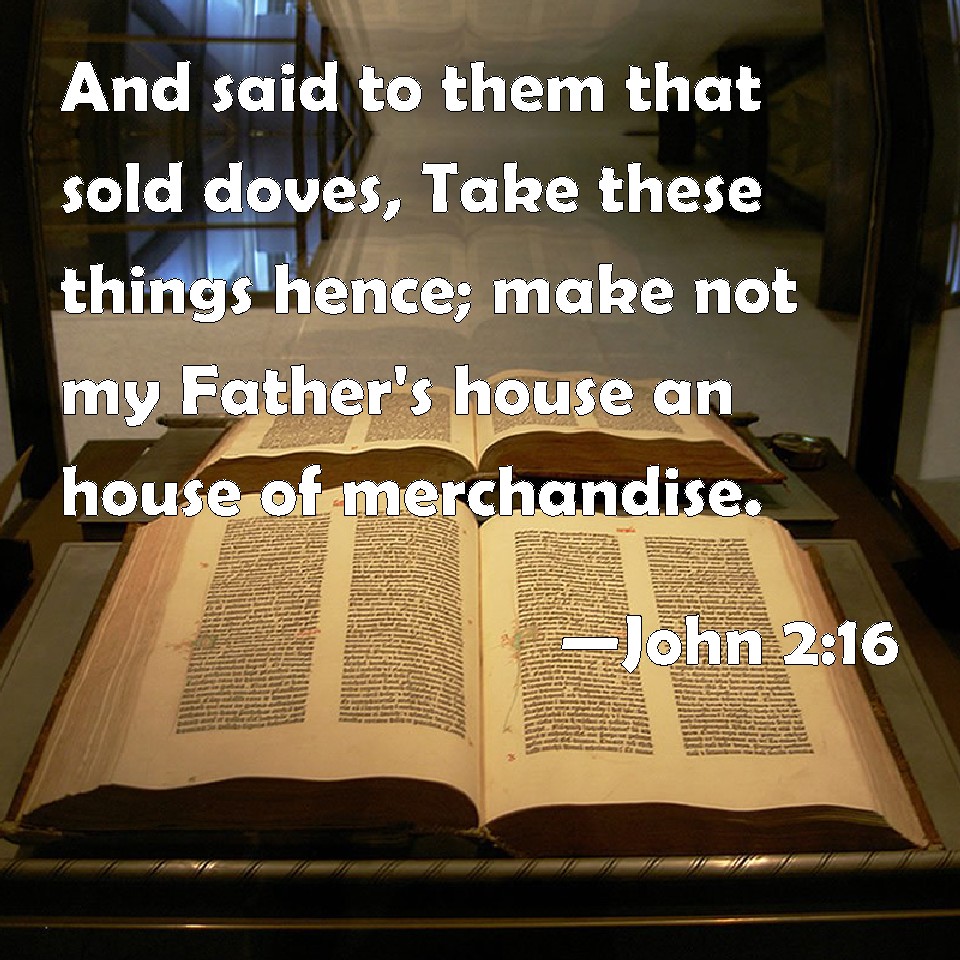 A DIFFERENT ATTITUDE ON MONEY FROM ANOTHER ERA
Now let's look at how diametrically different preachers from another era thought about money.
In 1744 John Wesley had written: "When people spend money on things they do not need, they begin to want more of what they do not need. Instead of satisfying their desires, they only increase them." Daily experience with his parishioners showed him that, the more they indulged their flesh, the more they wanted. Oh, how we need to understand this uncommon wisdom and exercise solemn vigilance today concerning the covetous nature of riches.
Wesley especially warned against buying too much for children. People who would never waste money on themselves might be more indulgent with their children. On the principle that gratifying a desire needlessly only tends to increase it, he asked these well-intentioned parents: "Why should you purchase for them more pride or lust, more vanity or foolish and hurtful desires? Why should you be at further expense to increase their temptations and snares and to pierce them through with more sorrows? Would you send your spoiled children to hell?"
John Wesley taught to give all you can and not to set your heart upon uncertain riches. He gave this warning: "You have undoubtedly set your heart upon gold, and it will eat your flesh as fire."
And then he added this: "When I have money, I get rid of it quickly, lest it find a way into my heart."
What a radical contrast from what carnal-prosperity preachers teach today!
Now here are some other quotes from men of old who have also gone on to their reward. Notice how careful they were about their attitude toward money.
"I continually find it necessary to guard against the natural love of wealth and grandeur which prompts us always, when we come to apply our general doctrine to our own case, to claim an exception." — William Wilberforce
"Shun as you would the plague a cleric who from being poor has become wealthy, or who, from being nobody has become a celebrity." — St. Jerome
"You have reached the pinnacle of success as soon as you become uninterested in money, compliments, or publicity." — Thomas Wolfe
"Nothing that is God's is obtainable by money." — Tertian
Quite a contrast between the "now" and "then" schools of thought on money. Men and ministers of old were much more careful when it came to money. They understood the inherent danger of it leading to temptation and being a snare, as the apostle Paul warned. They saw money almost as a god or goddess, which is one of the identities of mammon — being a deity.
The Lord highlighted the worship of mammon because it is a major stumbling block and sin in the Church today, and one of the main reasons for the Church's lack of power. He also used it to warn us personally as we come into more favor and increase in our own lives and ministry, for as I've stated, many of the Lord's ministers have become money-minded and lost the anointing.
Let us repent from serving the goddess of money (mammon).
Cleansing The Temple is now available in kindle and paperback. This word will help prepare the church for the storm ahead, the harvest, and the glory of the Lord.