This is a dream a friend of mine just received a few days ago. It is a dire warning to the body of Christ and the world. 
In this dream, I was with a family, and we were on a journey through a jungle. We came upon a human sewage pit that looked to be 10 feet wide, but very deep. We decided to make camp In this location that night. We might've been 20 feet or more away from this sewage pit.
Before we went to sleep one of the family members, a child took a seed, a green seed about the size of an acorn and tossed it into this sewage pit. The father tried to warn him, but it was too late. When the father saw the seed fall on top of the sewage pit before it sunk, he acted like he was going to try to pull it out. But then changed his mind with a shrug of his shoulder, he chose to ignore it. This green seed about the size of an acorn sunk into this sewage pit.
Then we all laid down for the night to sleep. During the night something disturbed me greatly in my heart, and I woke up. As I looked over at the sewage pit, I saw a diabolical head that was made of this sewage rising out of the sewage pit. As it began to rise from the sewage pit, arms and legs began to appear. The eyes of this face were burning with evil red fire. As it stood over the top of us, I watched as it stretched its arms towards the sleeping family. Instantly it engulfed them to where they became one with the sewage. This beautiful family was gone, swallowed up by the sewage.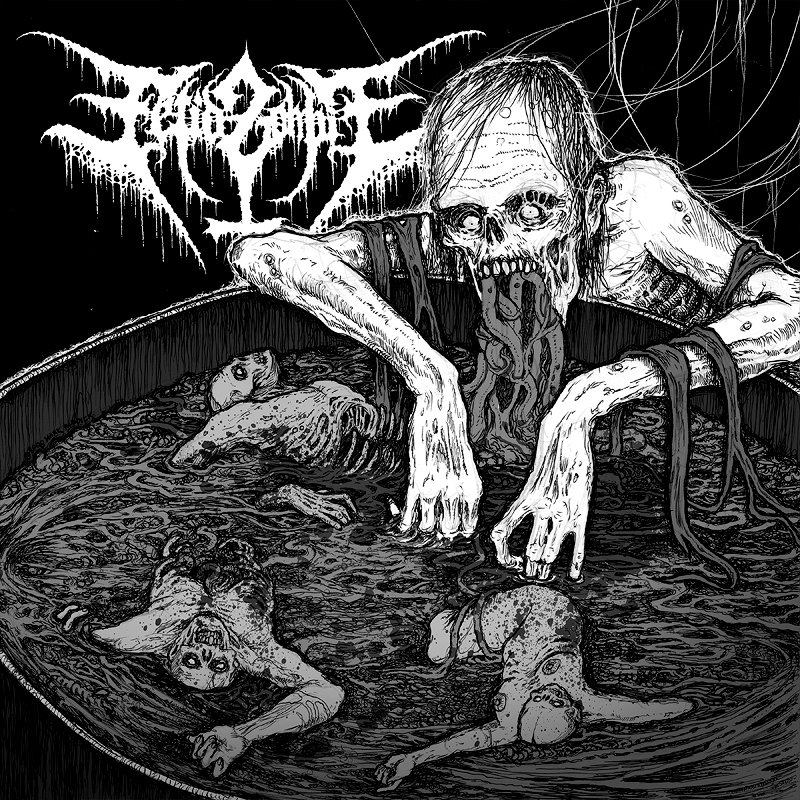 I was barely able to get up in time and RUN for my life. This living sewage began to flow forth in every direction. It was living and diabolical to the very core of it's being. It began to chase me as I ran through the jungle. At every turn I took it seemed to be overtaking the jungle. In every place it flowed it was covering everything with its terrible stink, sludge, and death. Everything it touched died and was swallowed up in the sewage. This diabolical living sewage fed on all living things, and it began to expand massively in size.
Eventually, I was clear of the jungle. But it was right behind me. As I looked out from the jungle, I saw valleys with towns and far distant cities. I was barely able to avoid the flow of this sewage with precise turns and calculations. I saw it make its way into the midst of humanity. It swallowed everything that was good and decent in its pathway. Human lives were being devoured by this filth that the human mind cannot comprehend.
It seemed like the next moment I was no longer on the earth. Now I was suspended above the earth. As I looked at the beauty of the earth below me, the blues, greens, and vibrant colors of the earth began to slowly but surely be snuffed out by this ugly brown, black, gray of this creeping ever expanding living but yet dead river of sewage. This massive river of sewage was becoming an ocean.
As I watched this progression of filth flow, my heart was filled with extreme sadness as this sewage  snuffed out life wherever it went. It flowed until all that was good and decent upon the earth was covered under an ocean of pure sewage. All life as we know it was snuffed out. With a great divine fear and shaking, I awoke from this dream.
The interpretation: I said to the Lord what is this? He spoke to my heart and said that when Satan rose up against me, he is the seed that was tossed into the human sewage by the willful act of disobedience of Adam and his wife. This sewage began as a living entity having a lust of doing nothing but devouring all that is good and decent. The man shrugging his shoulder signified the attitude of the majority of the human race when it comes to sin, and all that which is against the will of God.
I understood that for a while this river of sewage was hindered by God during the time of the flood in Noah's day. But now we have come to a place where there will be a rapid increase in this absolute filth that is about to flood the earth. The Lord reminded me that Jesus said it would be as it was in the days of Noah.
Dr. Michael H. Yeager (docyeager.com)
This dream reminds me of a song Bob Dylan wrote many years ago.
When He Returns
Bob Dylan 
The iron hand it ain't no match for the iron rod
The strongest wall will crumble and fall to a mighty God
For all those who have eyes and all those who have ears
It is only He who can reduce me to tears
Don't you cry and don't you die and don't you burn
Like a thief in the night, he'll replace wrong with right
When he returns.
Truth is an arrow and the gate is narrow that it passes through
He unleashed His power at an unknown hour that no one knew
How long can I listen to the lies of prejudice?
How long can I stay drunk on fear out in the wilderness?
Can I cast it aside, all this loyalty and this pride?
Will I ever learn that there'll be no peace, that the war won't cease
Until He returns?
Surrender your crown on this blood-stained ground, take off your mask
He sees your deeds, He knows your needs even before you ask
How long can you falsify and deny what is real?
How long can you hate yourself for the weakness you conceal?
Of every earthly plan that be known to man, He is unconcerned
He's got plans of his own to set up His throne
When He returns.
Lift up your heads for your full redemption is drawing near. This world is not our home. In Christ we shall overcome. Let us be found watching and waiting when He returns.  
SCRIPTURES:
Is. 60:2; Mt. 24:37; Mk. 13:22; Acts 2:40; 2 Cor. 6:17; Eph. 5:6; 1 Tim. 4:16; Titus 1:15; Heb. 3:12; Jam. 4:8; 2 Pt. 2:11, 18; Jude 1:4